View tank profile

{{Infobox_Metal_Maiden_Profile
 | model                                        = IS-1
 | name                                                = Marina Mikhailov
 | character_portrait_image                        = IS-1.png
 | rarity                                        = blue
 | type                                                = ht
 | nation                                        = Rossiya
 | character_voice                                = 
 | live2d                                        = 0
}}

==Quote==
{| class="wikitable"
 ! From
 ! Quote
 |-
 | rowspan="5" | Main game screen
 | Darling, sometimes I think Zoe is right, Metal Maidens training out six-pack abs is good for their spirits. What do you think?
 |-
 | Look! Humans pursuing technology led us to story of war between woman and beast!
 |-
 | Those who sleep past the morning call should be court martialed!
 |-
 | Comrades! Love, hope, serenity, none of these will last!
 |-
 | Fate will give all of us a fair trial, my darling. And we'll be together.
 |-


Notice:  Undefined property: MetalMaiden::$getQuote_pre_attack_1 in /home/metalmainv/www/views/metal_maidens/view/export_to_wiki.php on line 82



Notice:  Undefined property: MetalMaiden::$getQuote_pre_attack_2 in /home/metalmainv/www/views/metal_maidens/view/export_to_wiki.php on line 82



Notice:  Undefined property: MetalMaiden::$getQuote_pre_attack_3 in /home/metalmainv/www/views/metal_maidens/view/export_to_wiki.php on line 82



Notice:  Undefined property: MetalMaiden::$getQuote_choice_of_essential_equipment_1 in /home/metalmainv/www/views/metal_maidens/view/export_to_wiki.php on line 150



Notice:  Undefined property: MetalMaiden::$getQuote_choice_of_essential_equipment_2 in /home/metalmainv/www/views/metal_maidens/view/export_to_wiki.php on line 150



Notice:  Undefined property: MetalMaiden::$getQuote_choice_of_essential_equipment_3 in /home/metalmainv/www/views/metal_maidens/view/export_to_wiki.php on line 150



Notice:  Undefined property: MetalMaiden::$getQuote_choice_of_essential_equipment_4 in /home/metalmainv/www/views/metal_maidens/view/export_to_wiki.php on line 150



Notice:  Undefined property: MetalMaiden::$getQuote_battle_victory_1 in /home/metalmainv/www/views/metal_maidens/view/export_to_wiki.php on line 215



Notice:  Undefined property: MetalMaiden::$getQuote_battle_victory_2 in /home/metalmainv/www/views/metal_maidens/view/export_to_wiki.php on line 215



Notice:  Undefined property: MetalMaiden::$getQuote_battle_victory_3 in /home/metalmainv/www/views/metal_maidens/view/export_to_wiki.php on line 215

|}

==Attributes==
{{Infobox_Metal_Maiden_Statistics
 | firepower                                = 433
 | penetration                                = 202
 | durability                                = 706
 | armor                                = 253
 | targeting                                = 60
 | evasion                                = 50
 | stealth                                = 35
 | detection                                = 40
 | range_min                                = 
 | range_max                                = 
 | fire_resist                                = B
 | crit_resist                                = S
 | crit_defense                                = B
}}
{{Infobox_Metal_Maiden_Lifestyle
 |skill_1                        = cooking
 |skill_1_level                        = 1
 |skill_2                        = nursing
 |skill_2_level                        = 2
 |skill_3                        = sports
 |skill_3_level                        = 1
}}
{{Infobox_Metal_Maiden_Equipment
 | max_rank                        = 1
 | slot_1                        = turret
 | slot_2                        = mod
 | slot_3                        = fate_mod
 | slot_4                        = fate_external
 | slot_5                        = fate_internal
 | slot_6                        = fate_internal
 | slot_7                        = 
 | slot_8                        = 
 | ap                                = 0
 | apcr                                = 1
 | apds                                = 0
 | he                                = 0
 | heat                                = 0
 | hesh                                = 0
 | rp                                = 0
 | c_proof                        = 1
 | d_proof                        = 0
 | h_proof                        = 0
 | s_proof                        = 1
 | w_proof                        = 0
 | silent                        = 0
 | armor                        = heavy
 | angled                        = 0
 | flat-top                        = 0
 | front                        = 1
 | light                        = 0
 | low                        = 1
 | rear                        = 0
 | sloped                        = 1
 | tires                        = 0
 | treads                        = 1
}}

==Requirements==
<tabber>
Drop =<div title>Can be obtained in the following volumes :<br />
Volume 24</div>
|-|
Naval Port =<div title>[[File:Base_naval_port.png]]
Requires Naval Port LV5</div>
|-|
Method 1 =<div title>{{Infobox_Metal_Maiden_Requirements_RD
 | commander_level = 11
 | metal_maiden_1 = KV-85
 | metal_maiden_1_rarity = Purple
 | metal_maiden_1_level = 25
 | metal_maiden_1_rank = 
 | metal_maiden_2 = KV-1B
 | metal_maiden_2_rarity = Purple
 | metal_maiden_2_level = 25
 | metal_maiden_2_rank = 
 | blueprint_rank = 1
 | blueprint_quantity = 6
 | resource = Processor
 | resource_quantity = 10
 | silver_quantity = 29 500
}}</div>
|-|
Method 2 =<div title>{{Infobox_Metal_Maiden_Requirements_RD
 | commander_level = 11
 | metal_maiden_1 = KV-1
 | metal_maiden_1_rarity = Blue
 | metal_maiden_1_level = 25
 | metal_maiden_1_rank = 
 | metal_maiden_2 = A-32
 | metal_maiden_2_rarity = Blue
 | metal_maiden_2_level = 25
 | metal_maiden_2_rank = 
 | blueprint_rank = 1
 | blueprint_quantity = 6
 | resource = Processor
 | resource_quantity = 11
 | silver_quantity = 38 900
}}</div>
|-|
</tabber>

==Technology==

==Illustration==
{| class="mw-collapsible mw-collapsed wikitable"
! Full illustration
|-
| [[File:IS-1_full.png]]
|}


{{Infobox_Metal_Maiden_Statistics
 | firepower                                = 433
 | penetration                                = 202
 | durability                                = 706
 | armor                                = 253
 | targeting                                = 60
 | evasion                                = 50
 | stealth                                = 35
 | detection                                = 40
 | range_min                                = 
 | range_max                                = 
 | fire_resist                                = B
 | crit_resist                                = S
 | crit_defense                                = B
}}

Warning : This is only an approximation and a work-in-progress.
Some metal maidens may have more than one type of engine/chassis and therefore can not accumulate all the bonuses from theirs engines/chassis at the same time.
You will also have to take into account the range of the shells available.
33%

Dirt streets
Adequate equipment : 1 out of 3
Missing : rear w_proof
33%

Rocky streets
Adequate equipment : 1 out of 3
Missing : tires light
100%

Snow streets
Adequate equipment : 3 out of 3

100%

Grass forest
Adequate equipment : 1 out of 1

33%

Dirt forest
Adequate equipment : 1 out of 3
Missing : rear w_proof
100%

Snow forest
Adequate equipment : 3 out of 3

100%

Grass hills
Adequate equipment : 1 out of 1

33%

Desert hills
Adequate equipment : 1 out of 3
Missing : d_proof h_proof
0%

Desert valley
Adequate equipment : 0 out of 3
Missing : d_proof h_proof silent
0%

Rocky valley
Adequate equipment : 0 out of 3
Missing : tires light silent
67%

Snow valley
Adequate equipment : 2 out of 3
Missing : silent
0%

Grass plains
Adequate equipment : 0 out of 1
Missing : angled
0%

Dirt plains
Adequate equipment : 0 out of 3
Missing : rear w_proof angled
67%

Snow plains
Adequate equipment : 2 out of 3
Missing : angled
67%

Crushed ice streets
Adequate equipment : 2 out of 3
Missing : light
33%

Shoals forest
Adequate equipment : 1 out of 3
Missing : d_proof w_proof
33%

Shoals hills
Adequate equipment : 1 out of 3
Missing : d_proof w_proof
67%

Muddy snow forest
Adequate equipment : 2 out of 3
Missing : rear
33%

Crushed ice valley
Adequate equipment : 1 out of 3
Missing : light silent
0%

Rocky desert plains
Adequate equipment : 0 out of 3
Missing : tires h_proof angled
33%

Cocpvp 02
Adequate equipment : 1 out of 3
Missing : tires h_proof
[Rear]
Immune to [Swamp] terrain effect :
[Dirt]
Troughout the battle,
Penetration
is reduced
[W Proof]
Immune to [Wet] terrain effect :
[Dirt]
Troughout the battle,
Detection
is drastically reduced
[Tires]
Immune to [Flat] terrain effect :
[Rocky]
Troughout the battle,
Armor
is reduced
[Light]
Immune to [Rocky] terrain effect :
[Rocky]
Troughout the battle,
Targeting
is reduced
[D Proof]
Immune to [Dusty] terrain effect :
[Desert]
Troughout the battle,
Damage received
is increased
[H Proof]
Immune to [Hot] terrain effect :
[Desert]
Troughout the battle,
Fire resistance
is drastically reduced
[Silent]
Immune to [Exposed] terrain effect :
[Valley]
Troughout the battle,
Stealth
is drastically reduced
[Angled]
Immune to [Broad] terrain effect :
[Plains]
During Shelling stage,
Firepower
is drastically reduced
Requires Naval Port LV5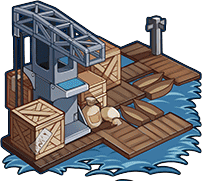 Require Commander level 11

x 10

x 6

x 29 500
Require Commander level 11

x 11

x 6

x 38 900
CP HT Engine III
1840 115
Sloped Front-Turret Chassis
40 335 30
Sloped Front-Turret Chassis II
105 1100 75
Sloped Front-Turret Chassis III
170 1800 110
Heavy Full Cast Armor
90 165 10
Heavy Spaced Wedge Armor
115 35
Heavy Composite Wedge Armor
200
Heavy Full Cast Armor II
225 515 25
Heavy Spaced Wedge Armor II
250 70
Heavy Composite Wedge Armor II
400
Heavy Full Cast Armor III
385 935 40
Heavy Spaced Wedge Armor III
385 105
Heavy Composite Wedge Armor III
605 5
[APCR]

Composite-Rigid
Shell
Attributes
Range
Properties & Modifiers
Carbonized APCR (L)
Tier 1
Level 2

| | |
| --- | --- |
| | 110 |
| | 125 |

1560
HECR (L)
Tier 1
Level 3

| | |
| --- | --- |
| | 370 |
| | 50 |

1560
Carbonized CRBC (L)
Tier 2
Level 1
1560
HECRBC (L)
Tier 2
Level 4
1560
Carbonized CRCBC (L)
Tier 3
Level 3
1560
HECRCBC (L)
Tier 3
Level 4
1560
Quotes
| From | Quote |
| --- | --- |
| Intro | |
| Main screen #1 | Darling, sometimes I think Zoe is right, Metal Maidens training out six-pack abs is good for their spirits. What do you think? |
| Main screen #2 | Look! Humans pursuing technology led us to story of war between woman and beast! |
| Main screen #3 | Those who sleep past the morning call should be court martialed! |
| Main screen #4 | Comrades! Love, hope, serenity, none of these will last! |
| Main screen #5 | Fate will give all of us a fair trial, my darling. And we'll be together. |
| Main screen #6 | |
| On upgrade | |
| Pre-attack #1 | |
| Pre-attack #2 | |
| Pre-attack #3 | |
| On attack #1 | |
| On attack #2 | |
| On attack #3 | |
| On attack #4 | |
| On attack #5 | |
| On attack #6 | |
| On attack #7 | |
| Getting hit | |
| Upon destruction | |
| Assignation to a squad | |
| Adding essential equipment #1 | |
| Adding essential equipment #2 | |
| Adding essential equipment #3 | |
| Adding essential equipment #4 | |
| Adding equipment to a slot #1 | |
| Adding equipment to a slot #2 | |
| Adding equipment to a slot #3 | |
| Unequip all gear | |
| Battle victory #1 | |
| Battle victory #2 | |
| Battle victory #3 | |
| Battle loss | |
| Fate | |
Illustration :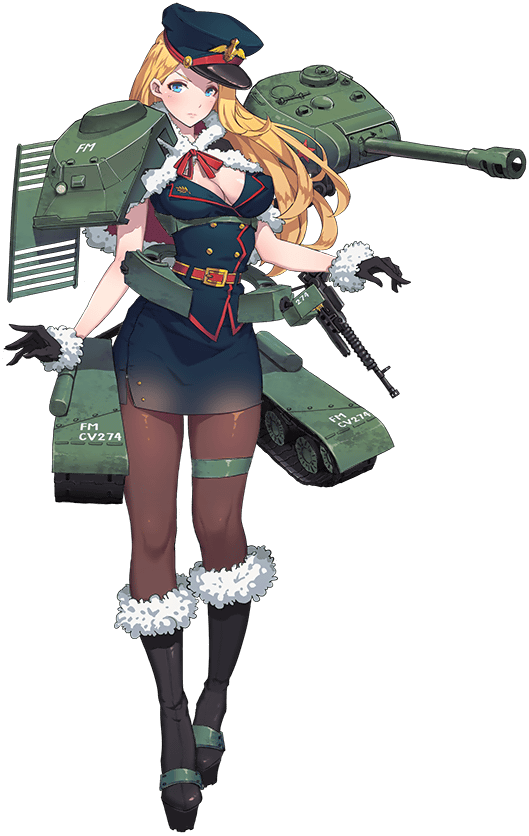 Official artwork